Pau Pyrénées Airport has launched an ambitious project to redesign and improve the shops, restaurants and vending facilities, located in the public area and in the boarding room.
These developments occur in several phases and may temporarily lead to the closure of certain points of sale. Air'py thanks the airport customers for their understanding
Shops
Before embarking, or during your visit at the airport, take advantage of our shopping areas on the ground flood and in the boarding room.
The shops offer a wide range of newspapers, books, magazines, tobacco, souvenirs, regional products...
The shopping area located in the boarding room allows you to take on board in all serenity your gifts, souvenirs of the region, wines and other regional specialties...
All items purchased in the boarding room – including liquids, beverages and perfumes etc, are allowed in the cabin, regardless of capacity. Purchases are therefore free in the shops of the boarding room (within the limits of the Customs Regulations)
Contact :
Tél. : +33 (0)5 59 33 33 23
Search for accommodation

Close to the airport
PAU and its surroundings
Restauration
restaurant-Brasserie
With a view of the runway and the Pyrenees, for your lunches, group meals or cocktails on request, discover the restaurant of Pau Pyrenees Airport. The Airport Restaurant welcomes you 7 days a week at noon (express or a la carte) and evenings on request and in groups.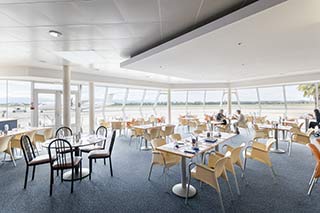 Snack-Bar
On-site or take-out: drinks, sandwiches, salads. Ground floor & Boarding room
Contact :
Tél. : +33 (0)5 59 33 33 23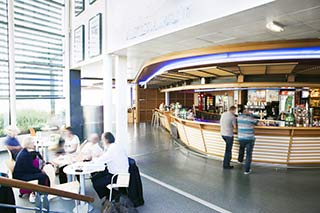 Car rental
Several car-hire companies have offices at Pau-Pyrenees Airport, together with a fleet of some 400 vehicles in a specially-reserved car park. Please feel free to ask for information at their desks, which are located on the ground floor of the terminal, just next to the shops and restaurants.

05 59 33 27 13
Free WIFI access

Pau-Pyrenees Airport offers free Wi-fi internet access for 3 hours and 400 MB.
A free unlimited connection for the day is available on request. For more information, please contact the Information Desk on the ground floor.
Tél. : +33 (0)5 59 33 33 00
Airlines contact details
Contacts compagnies
please refer to our airline companies page
Information Desk
Tél. : +33 (0)5 59 33 33 00
Desk open from 7:15 am to 10:45 pm
Personal messages, announcements, tourist information.
The terminal bulding is open from 5 am to 11:00 pm
Air France Luggage Call Centre
(0,34 € TTC/min)
Tél. : in France 0970 808 816
Tél. : Outside of France +33 (0)1 55 69 84 68
Official airport services


Customs
Tax removal is possible
Tél : +33 (0)9 70 27 59 91
Air Transport Police
Bank
A Credit Agricole cash-point machine is located on the ground floor.
Post office
a post box is located on the ground floor of the airport, next to the shops.
Newsagents
Located near the bar on the ground floor. Open from 6:00 am to 9:00 pm.
Lost and found
for items lost/found in the terminal building or on the plane : contact the Information Desk
Tourist information
kiosk located on the ground floor offering a selection of free tourist brochures.
Emergency medical services
Go to the Information Desk on the ground floor.
Baby-changing facilities
Persons with reduced mobility
2 lifts on the ground floor. If you need help with arrival/departure, please contact the Information Desk.
or consult the "Persons with Reduced Mobility" section of this website.
2 ground floor locations (departures hall and departure lounge).