Destinations
regular flights
Marrakech
1 weekly flight with Air Arabia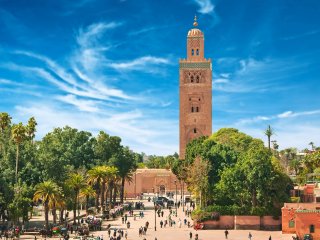 Presentation
The Red City of Marrakech offers almost a thousand years of history to be explored. In the centre of Morocco, the city is almost constantly bathed in sunshine and overflows with the cultural riches of the Kingdom.
Marrakech is a modern city which revolves around two distinct districts: the impressive Medina and Gueliz with its more Western character.
The centre of the town is the very lively Jemaa el Fna Square. Not far away, the magnificent Koutoubia Mosque, A little further on is the 150-room Bahia Palace. No trip to Marrakech is complete without a visit to the souk in the Medina, with its 40,000 craftsmen. Also worth visiting are the splendid gardens of Menara and Majorelle. The warm hospitality and the scents of Marrakech will enthral you as they have millions of other visitors.
Location
The airport is located 6km south-west from Marrakech town center.
Transport
Taxi : A taxi station is located on the airport esplanade.
The fares are posted in the Taxi Parking for all the destinations.
Bus : A bus shuttle service city-airport-city is provided every 20min.
Informations
Time difference: Minus 2 hours in the summer, minus 1 hour in the winter

Currency: Moroccan Dirham