News
Vendredi 11 Janvier 2019
Airport Pau Pyrenees: traffic increasing by 2,1 % in 2018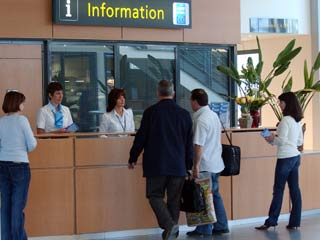 In 2018, 612 580 passengers travelled by air at first or aimed at Pau. This increase of 2,1 % with regard to 2017 establishes the best performance of the airport Pau Pyrenees for five years.

Several axes in private individuals carried this growth:

- Paris Charles-de-Gaulle (+5 %) thanks to the use of planes moreover big capacity by Hop! Air France during the season summer, 2018;
- Lyon (+9 %) for the same reasons, the new type of device having besides allowed. To improve clearly the regularity of the service (17 % of flights cancelled less over the year);
-other internal transverse links (+29%) thanks to the opening of 5 new lines
Lille, Strasbourg, Brest, Caen and Ajaccio and the rise in power of Nantes (+54%);
- the Marrakech route (+13%), thanks to an increasing filling rate;
- charter holiday flights (+10%) thanks to a number of destinations raised to 7 in 2018.

Traffic on Orly shows a slight decrease (-3.3%) mainly due to difficulties
Punctual operating within Hop! Air France, having led to a number of cancelled flights abnormally high in the spring. The situation is back in order from the summer.

A total of 8 new regular services have been created since 2017, including one particularly expected by the Palois market: the opening to competition of the Pau-Paris line, with flights implemented by easyJet in the form of a test between February 4 and March 3. This will be there a unique opportunity for Paloise customers, businesses and individuals, to show their strong expectations in filling up the planes.