News
Mardi 10 Juillet 2018
Refitting of the shops and bars of the airport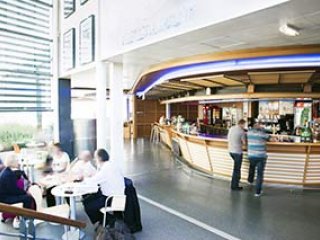 The Airport Pau Pyrenees launched an ambitious project of recasting and improvement of spaces of trade and partly public restoration located and as a boarding room.


Various installations will intervene in several phases, of which first started at the beginning of July and the last will be completed at the end of 2019.
In public zone at the ground floor of the terminal, a very new space will open in September in the form of combistore, instead of the old shop. Part of this space will accommodate a bar, equipped with a new external terrace; the other part will be devoted to a shop memories, regional products, Bookstore and press.


As a boarding room, a new structure will be inaugurated in November, also in the form of combistore (bar and shop). The interior terrace will be increased instead of current bar, for a better comfort of the passengers.


The marked objective is to bring the experiment of the passengers and the visitors towards excellence, in particular thanks to a reconfiguration of the retail outlets, a modernization of the offer, innovating concepts and an extension of the opening hours.


While waiting to discover these new installations, Air'py wishes you good holidays and a beautiful summer !